Events on the calendar
Everyone who is an "alumnus" of this camping experience is invited to come during camp July7-14, 2017. This is our 150th year and we are celebrating with activities on the grounds especially during the weekend of July 7th, 8th and 9th.
Friday the 7th at 5 p.m. we begin camp with our annual Spaghetti Dinner.
​Friday at 7:30 CHIZ RIDER will present a trumpet concert in the tabernacle.
CHIZ RIDER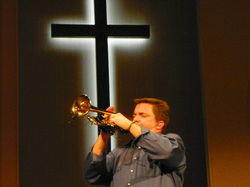 Emmy Award-winning trumpeter Chiz Rider will bring a blend of traditional and contemporary Christian music. In his own unique style, reminiscent of the great Louis Armstrong & Wynton Marsalis, Charles "Chiz" Rider has spread Christ's message of love and salvation to millions.
Featured with a Billy Graham Crusade, major colleges, conference centers and churches across the land, this committed man from State College will touch the hearts of everyone who hears him play.
After the concert on Friday there will be fellowship time in the dining hall.

Saturday, the 8th, begins with breakfast at 8 a.m.
Walk the grounds and notice the changes since you were here as a camper.
See the hotel room replica of furnishing in the 1890's - 1910.
Saturday at 10:30 Children on the grounds will be invited to the Children's Center on the hill for a time with our Children's workers.
Saturday at 11 a.m. Adults and Youth will gather in the Tabernacle for worship,
Saturday Noon, lunch for everyone in the dining hall. Meal Ticket or Ala Carte.
Saturday at 1 p.m.., weather permitting, there will be old-time games and activities for children on the grounds.
Saturday 2 p.m. Children are invited to the Children's Center. Adults gather in the Tabernacle for a historical review, music and worship.
Saturday at 7 p.m. Mini Concert (perhaps by an alumnus) in the Tabernacle.
Saturday at 7:30 Alumni Memories, Music and Worship. (Snack Shack is open after service.)
Sunday's schedule will basically follow along the same as Saturday.
Speakers on the platform for services for the entire camp:
Dr. Keith Drury, Rev. Glenn Black, Rev. Bert Jones.
Music Evangelist--Brook Barnhouse
​See our Contact Us page to order a detailed camp Brochure.